Kee Klamp Fittings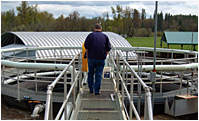 Kee Klamp Fittings - How to Build
Kee Klamp fittings are strong maileable iron slip-on pipe fittings with from one to five case hardened set screws to each fittings depending on the number of pipes to be joined at one point.

Kee Klamp fittings are desgned to be used with standard iron (1/2" to 2") pipe available from any local plumbing or mill supply house. The fittings are galvanized making them ideal for indoor or outdoor use.

Kee Klamp fittings give unlimited scope to the engineer designer, making possible the fabrication of the unusual type of structure as well as the usual guard rails, storage racks etc. However, most structures can be designed from just two or three types of Kee Klamp fittings.