Grip Strut Safety Grating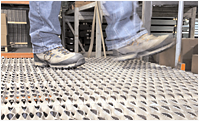 Grip Strut Plank Grating
Tested by an independent laboratory for slip resistance according to standards and methods established by Federal Specifications RR-G-1602A, Grip Strut® Safety Grating proved its superiority by exceeding all requirements of this specification.

The standards where exacting - five shoe sole materials tested in three directions under five conditions: dry, greasy, muddy, soapy and icy. Grip Strut Safety Grating tested 10% to 180% more slip-resistant than similar materials, depending on shoe materials and surface conditions.

In survey after survey, accidents caused by falls are high on the list of disabling and lost-time injuries and death. In fact, statistics from many states rate this type of accident second as the cause for industry's loss of manhours and lower productivity. As proved in the test described above, Grip Strut Safety Grating substantially reduces this kind of accident. In addition, the hazard of falling objects is minimized by the shape and size (17/8" x 11/16") of the surface openings. Fewer accidents, with resultant lower insurance costs and reduced workman's compensation losses, should be the logical reason for specifying Grip Strut Safety Grating for all walking-working surfaces and stair treads.